Stelarc - AUGMENTED AND AMPLIFIED BODY: EVENT FOR EXTENDED ARM & SENSOR BRACELET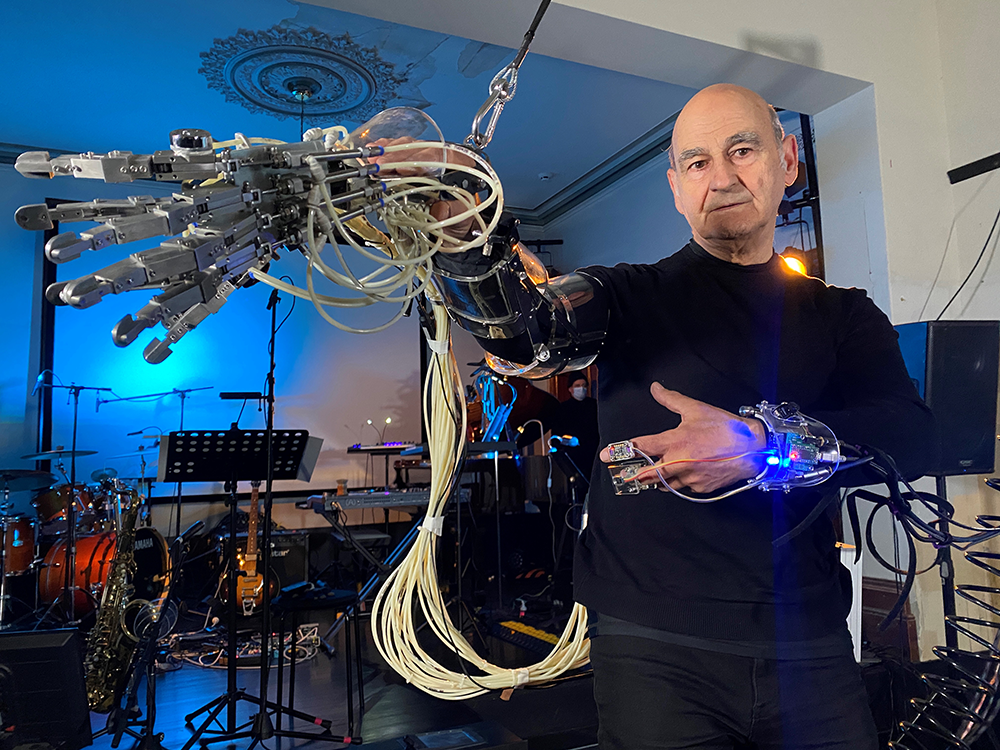 The series of performances are both a visual and acoustical interactions. The Extended Arm is an 11 degree-of-freedom mechanism that extends the artist's right arm to primate proportions. It has wrist flexion, wrist rotation, thumb rotation, individual finger flexion with each finger splitting open, each finger becoming a gripper in itself. It is pneumatically powered with its functions actuated with a set of 4 finger switches that sample pre-programmed sequences of motions, that can be played in any combination. The Sensor Bracelet is worn on the left arm and has a pressure sensor, worn as a ring, to switch the sound generated on and off and also to increase the volume. With pressure sustained, the sensor also triggers a note volume envelope and controls note slides (portamento). The pitch of the sound is modulated by orienting the finger up and down. The second ring sensor, by rolling the finger to the right and left scales up the sine tone 3 octaves higher and lower. The sounds generated by the Sensor Braclet with its rings, augments the compressed air sounds, solenoid clicks and mechanical finger sounds of the Extended Arm. A digital delay pedal allows the artist to also sample and loop sounds for the 30min performance. Effectively, the choreography of the artist's arm, hand and finger movements compose the sounds. Each performance vary in improvised structure.
Performances Times
Tuesday 30th May
First Performance: 10.05 am - Exhibition Hall
Second Performance: 4.35 pm - Exhibition Hall
Wednesday 31st May
Third Performance: 10.40 am - Exhibition Hall
Panel Session: 12.15 pm - ICC Auditorium
Thursday 1st June
Fourth Performance: 10.30 am - Exhibition Hall
Fifth Performance: 3.00 pm Exhibition Hall
Biography
Stelarc is a performance artist who has visually probed and acoustically amplified his body. He has made three films of the inside of his body. He has used medical instruments, prosthetics, robotics, Virtual Reality systems, the Internet and biotechnology to engineer intimate and involuntary interfaces with the body. He explores Alternate Anatomical Architectures with augmented and extended body constructs.
He has performed with a Third Hand, an Extended Arm, a Virtual Arm, a Stomach Sculpture and Exoskeleton, a 6-legged walking robot. His Fractal Flesh, Ping Body and Parasite performances explored involuntary, remote and internet choreography of the body with electrical stimulation of the muscles. His Prosthetic Head and Articulated Head are embodied conversational agents that speaks to the person who interrogates it. He has surgically constructed, with tissue ingrowth and vascularisation an Extra Ear on his arm. The intent is still to electronically augment the ear to internet enable it as a hearing device for people in other places. StickMan is a minimal but full-body exoskeleton that algorithmically actuates the body. Reclining StickMan, a 9m long 4m high stick-figure robot with online interactivity was engineered for the Adelaide Biennial of Australian Art. His most recent project, in collaboration with LLDS, for the Science Gallery Melbourne "Swarm" exhibition, is the Anthropomorphic Machine, an 8m high, 7m in diameter interactive and responsive installation with its pneumatic rubber muscles, tensegrity canopy and vision and computational system.
In 1995 Stelarc received a three year Fellowship from The Visual Arts/Craft Board, The Australia Council and in 2004 was awarded a two year New Media Arts Fellowship. In 1997 he was appointed Honorary Professor of Art and Robotics at Carnegie Mellon University, Pittsburgh. He was Artist-In-Residence for Hamburg City in 1997. In 2000 he was awarded an Honorary Degree of Laws by Monash University. He has completed Visiting Artist positions in Art and Technology, at the Faculty of Art and Design at Ohio State University in Columbus in 2002, 2003 & 2004. He has been Principal Research Fellow in the Performance Arts Digital Research Unit and a Visiting Professor at The Nottingham Trent University, UK. Between 2006 and 2011 he was Senior Research Fellow and Visiting Artist at the MARCS Lab, University of Western Sydney, Australia and Chair in Performance Art, School of Arts, Brunel University, Uxbridge, UK. In 2010 he received a special projects grant from the Australia Council and was also awarded the Prix Ars Electronica Hybrid Arts Prize. Between 2013-2018 he was a Distinguished Research Fellow and Director of the Alternate Anatomies Lab at Curtin University, Perth, Australia. In 2015 he received the Australia Council's Emerging and Experimental Arts Award. In 2016 he was awarded an Honorary Doctorate from the Ionian University, Corfu, Greece. In 2022 he was Artist-In-Residence at the Science Gallery Melbourne, Australia. Stelarc's artwork is represented by the Scott Livesey Galleries in Melbourne.